Learning
Autumn 1 - God/Creation
Question
Why is the word 'God' so important to Christians?
Assessment for this topic
I can talk about the meaning of VIP. I know that God is a VIP for Christians
I know that Christians believe that God's name must be respected and kept holy

Christians believe God is the creator of the universe

I can re-tell the story 'Why God makes Jellyfish'
I can create my own jelly fish using different material and talk about if it was easy to create a jelly fish (Challenge)
I can help re-tell the story of creation

Christians believe God made our wonderful world and so we should look after it (Challenge)

I know that Christians believe that God created our wonderful world and that we should look after it
Keywords for this topic
God
Christianity
Creator
Creation
Name
Important
Church
Life
Universe
Useful websites for this topic
Half-termly article for this topic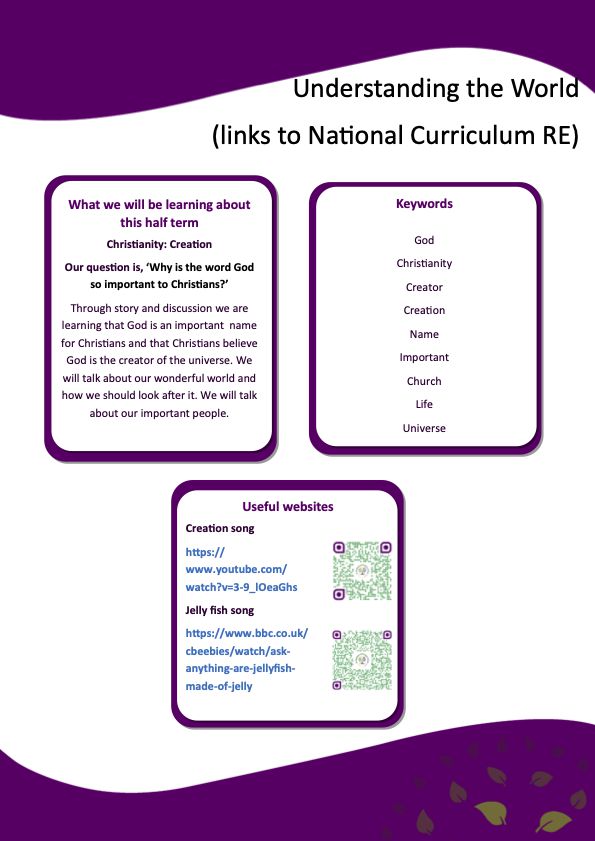 Yearbook articles
For the academic year 2022-2023, each child will be given a yearbook for their year group outlining the learning and information in each subject.