Key Information
School Performance Tables
These figures tell you about the performance of pupils at this school at key stage 2 (school years 3 to 6), which are the last four years of the primary phase of education.
This gives a percentage of children who have achieved the expected level alongside those that have reached a higher standard than expected. We use these outcomes to measure the achievement of our pupils against national averages.
Despite their relatively lower starting points, our pupils achieve very well, and the longer children spend in our school the better they do. Our pupils progress is significantly better than national averages in reading, writing and mathematics at the end of Key Stage 2.
Our most recent results are reported below, and you can see a further breakdown of these here
The data below is not current due to Covid. More information about reporting since 2019 can be found on the DfE website.
Key Stage 2 Results
Key Stage 2: At Expected Standard
| | | | | | |
| --- | --- | --- | --- | --- | --- |
| | Reading | Writing | Maths | GSP | RWM* |
| St Stephen's | 70% | 69% | 75% | 70% | 66% |
| National 2019 | 73% | 78% | 79% | 83% | 65% |
*Reading, Writing, Mathematics combined
This data shows that, prior to lockdowns and COVID, we were significantly improving
| | | | | | |
| --- | --- | --- | --- | --- | --- |
| | Reading | Writing | Maths | GSP | RWM* |
| 2017 | 48% | 62% | 40% | 55% | 32% |
| 2018 | 60% | 69% | 74% | 79% | 52% |
| 2019 | 70% | 69% | 75% | 70% | 66% |
Key Stage 2: Exceeding Expected Standard
| | | | | | |
| --- | --- | --- | --- | --- | --- |
| | Reading | Writing | Maths | GSP | RWM |
| St Stephen's | 20% | 3% | 18% | 26% | 3% |
| National 2019 | 27% | 20% | 27% | 36% | 10% |
Key Stage 2 Progress
2019 Progress Between Key Stage 1 and Key Stage 2
(expected progress is 0)
Reading

Writing

Maths

St Stephen's

+4.1 (well above)

Top 7% of schools in the country

+2.5 (above)

Top 18% of schools in the country

+3.7 (well above)

Top 11% schools in the country

Expected Progress

0.0

0.0

0.0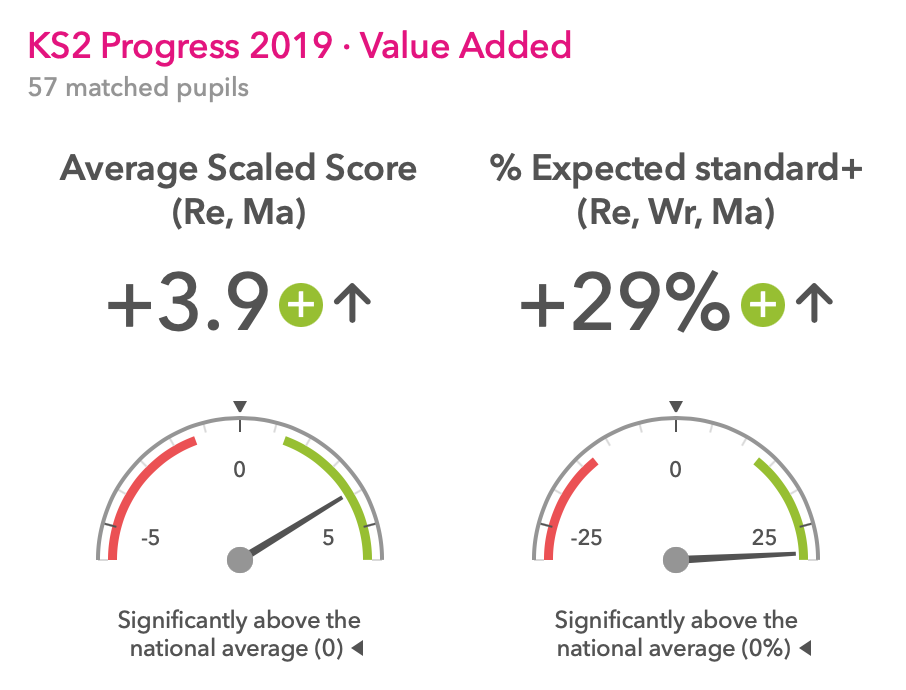 Key Stage 1 Results
Reading

Writing

Maths

RWM*

At

Exc.

At

Exc.

At

Exc.

At

Exc.

St Stephen's

74%

9%

67%

9%

73%

14%

65%

4%

National 2019

75%

25%

69%

15%

76%

22%

65%

11%
This data shows that, prior to lockdowns and COVID-19, we were significantly improving
*Reading, Writing, Mathematics combined
| | | | | |
| --- | --- | --- | --- | --- |
| | Reading | Writing | Maths | RWM* |
| 2017 | 65% | 44% | 55% | 45% |
| 2018 | 66% | 53% | 65% | 53% |
| 2019 | 74% | 67% | 72% | 65% |
Year 1 Phonics check
Year 1 Phonics Check: Percentage passing the phonics check at the end of Year 1
| | |
| --- | --- |
| | Phonics |
| St Stephen's | 71% |
| National 2019 | 72% |
Early Years Good Level of Development
Early Years Foundation Stage: Children achieving and exceeding a 'good level of development'
| | |
| --- | --- |
| | GLD |
| St Stephen's | 71% |
| National 2019 | 72% |