Learning
Summer 1 - Belonging
Question
Who am I? What does it mean to belong?
Assessment for this topic
Core Learning

Recognise that Incarnation and Salvation are part of a 'Big Story' of the Bible (A1)

I can talk about why Easter is important to Christians
I know that Easter is a festival that occurs in spring to remember a very important part of the Bible
I know that Christians believe that Jesus is God come to Earth

Tell stories of Holy Week and Easter from the Bible and recognise a link with the idea of Salvation (Jesus rescuing people) (A1)

I can act out the important parts of the Easter story and reflect on each part of the story
The entry into Jerusalem
Jesus' betrayal
Jesus' crucifixion
The empty tomb
Jesus' appearance to his friends

Recognise that Jesus gives instructions about how to behave (B1)

I know that Jesus rising from the his tomb teaches Christians that after they die, they can also have a new life, a life with God in Heaven

Give at least three examples of how Christians show their beliefs about Jesus' death and resurrection in church worship at Easter. (B1-2) (Challenge)

I can explain why eggs are connected to Easter
I understand why Christians visit the Stations of the Cross at Easter
I understand why Christians attend the 3 pm service on Good Friday

Think, talk and ask questions about whether the story of Easter has anything to say to them about sadness, hope or heaven, exploring different ideas (C1-3) (Challenge)

I can explore different ideas about the themes of sadness, hope and heaven in the Easter story, expressing my own ideas and asking questions
Keywords for this topic
Belonging
Welcome
Ceremony
Symbol
Love
Neighbour
Community
Religion
Christianity
Baptism
Christening gown
Candle
fish/ICHTHUS badges
Islam
Aqiqah
Wedding
Promise
Useful websites for this topic
Half-termly article for this topic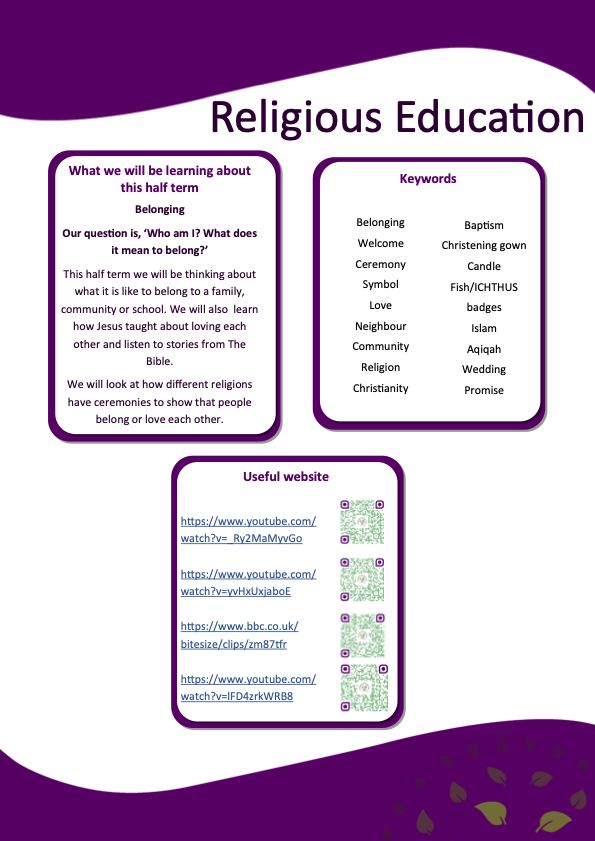 Yearbook articles
For the academic year 2022-2023, each child will be given a yearbook for their year group outlining the learning and information in each subject.