Learning
Spring 2 - Belonging
Question
Why does Easter matter to Christians?
Assessment for this topic
Give a clear, simple account of the story of Jesus' birth and why Jesus is important for Christians (A1&3)

I can act out the Christmas story describing what happened at the various events ( e.g. Nazareth – Gabriel visiting Mary, journey from Nazareth to Bethlehem)

Recognise that stories of Jesus' life come from the Gospels (A1)

I know that the stories about Jesus' life come from the Gospels

Give examples of ways in which Christians use the story of the nativity to guide their beliefs and actions at Christmas (B1&2)

I know that 'Advent' is the arrival of something or someone
I know that Christians wait and prepare for celebrating the birth of Jesus during Advent
I can give examples of how Christians prepare for Christmas and the coming of Jesus (Challenge)

Decide what students personally have to be thankful for at Christmas time (C2) (Challenge)

I know that Christmas is a time when Christians thank God that Jesus came to Earth to show and tell people how to live (Challenge)
Keywords for this topic
Salvation
Christian
Easter
Easter Story
Jesus
God
Earth
Heaven
Jerusalem
Betrayal
Crucifixion
Cross
Tomb
Eggs
New Life
Good Friday
Knowledge to be learnt in this topic
Children will know that:
Easter is very important in the 'big story' of the Bible. Jesus showed that he was willing to forgive all people, even for putting him on the cross
Christians believe Jesus builds a bridge between God and humans
Christians believe Jesus rose from the dead, giving people hope of a new life
Useful websites for this topic
Half-termly article for this topic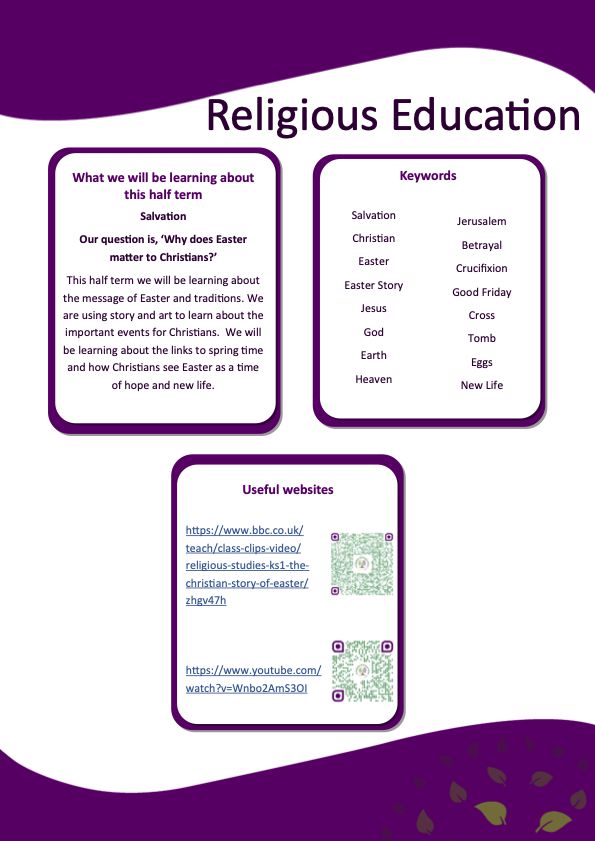 Yearbook articles
For the academic year 2022-2023, each child will be given a yearbook for their year group outlining the learning and information in each subject.