Parent Information
World Book Day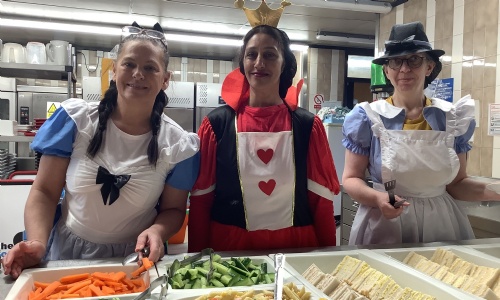 Children across the school enjoyed extra time reading books today!
Children were treated to an Alice in Wonderland themed afternoon tea for their lunch today! We even had a visit from the Queen of Hearts - luckily, she was very kind to us.
We enjoyed cucumber sandwiches, cupcakes and juice 🥪🥒🧁🧃
Saplings
In Nursery, we put some nice calming music on the screen and read for pleasure on the carpet and reading area. We have really enjoyed it!
Reception
We explored our Leaf Through A Good Book selection and chose different books to share with our friends.
The children really enjoyed reading and discussing their books including choosing their favourite characters and events in the story. One of our core stories this term is The Very Hungry Caterpillar. To celebrate World Book Day we also explored acting the story out and becoming beautiful butterflies. We had so much fun reading our favourite stories and cannot wait to take one of these fantastic reads home to share with our families!
Year 4 and Year 6
The children have been sharing their favourite books with pupils from different classes for World Book Day.