Parent Information
Robinwood Residential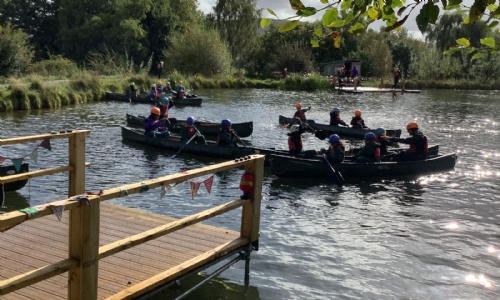 On Friday, we excitedly walked to the train station to jump on the train to Todmorden for our adventure at Robinwood.
When we arrived at Todmorden, we met some of our team leaders before walking up the gigantic hill to Robinwood. We made our beds and ate some dinner before setting off on some of our activities.
Each day, every group had different activities and every group needed to get all the equipment and the kit bags ready before the challenges began. We all got the chance to climb up as high as we could and squeeze the duck at the top, solve problems in the dungeons, figure out how to fix the piranha pool but the piranhas were released, climbed through the caves, swung high into the sky and zoom through the air on the zip wire. Lots of us faced our fears and we each encouraged everyone in our teams to have a try a go. Some challenges meant we needed to work as a team to help each other and in others we got the chance to show off new skills we had learnt like how to steer a canoe forward or how to take a big leap before jumping off the top of the trapeze.
Each night before bed, we had team games where we collected as many oohs (points) as we could to try and win. We needed to guess the film or TV show from the songs, write as many animals and foods as possible that began with the letter 'S', guess the catchphrase from the images we were given and guess what we each drew on a whiteboard. After a few rounds of games, we all got hot chocolate and calmed down before it was time for bed.
On the way back, we all got to say goodbye to Robinwood as we walked down the huge hill. We got the train back to Bradford before one last hill before we could go home.