Parent Information
Born In Bradford Air Quality and Pollution Project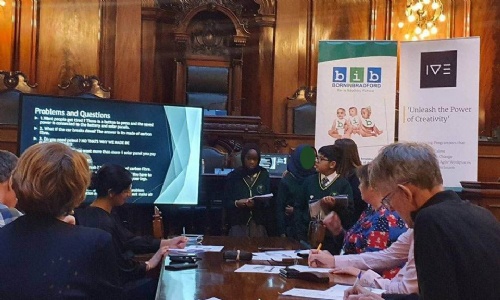 As part of our ongoing involvement with the Born In Bradford Air Quality and Pollution Project, some Year 6 children have been taking part in Creativity workshops since September, to harness the power of creative, convergent, and divergent thinking.
Children were taught about the causes of air pollution and were then tasked to come up with original ideas that aimed to combat air pollution. In teams, the children researched and designed their own initiatives to tackle the problem with the end goal of presenting their ideas to a panel of industry experts. These pictures show the culmination of 10 weeks hard work for our children, with the children showing off their presentation skills and presenting their unique and original ideas of how to combat air pollution and the climate crisis. Ideas included using lava power and heat from the earth's core to heat water and homes, pedal powered electric cars and hover crafts! Needless to say, our children did an amazing job and thoroughly enjoyed themselves.
Huge congratulations to all the children from St. Stephen's and Iqra Academy that took part - and special congratulations to the winners from our school - De Electra! Bravo! It is awesome to see that we have budding climate scientists at St. Stephen's!