School Council Meeting 18th October 2019
School Council Meeting 18th October 2019
21 October 2019 (by David Calcraft (davidc))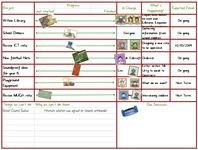 Members present: Noori, Elijah, Yahyaa, Areez, David, Logaun, Muzammil, Julia, Zara and Leo
Friday was the 3rd meeting of the school council and our 1st success, the school council armbands arrived.
Here is an update of our current projects
New football nets for year 3 playground (These have been ordered and are due to be delivered this week.)
Review the current MUGA rota (This is ongoing, please speak to Muzammil or Leo about this.)
Do we need new Playground equipment? (Areez and Yahyaa have gathered information from all classes, Mr Calcraft to speak to Mr Urry.)
Could we look at a fairer way to use the ICT room? (Julia and Zara are writing a new rota.)
Is there a way to make the door from the hall to Cartwright Class sound proof? (Leo has written to Mr Urry explaining the situation.)
We also added a new project to our list, the Library in Willow is neglected. Noori and Elijah will sort this out with the help of Logaun. We are also looking for Library monitors to help keep the library tidy
Next meeting to be held on 8th November at 12.30 in the Orchards.
By David Yr4